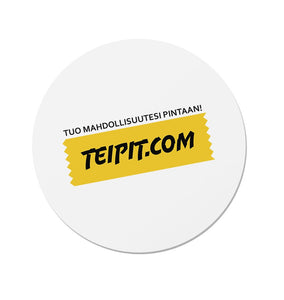 Promo sticker
Promo stickers, size max. 5x5cm
Promo stickers are an easy and cheap way to advertise your company. Our high-quality stickers are intended for long-term use. The stickers are weatherproof and won't fade in the sun. Promo stickers are perfect for doors, windows and glass surfaces. If you wish, you can order double-sided stickers, when you want the sticker to be visible on both sides. Double-sided promo stickers are perfect for example, cleaning and property maintenance companies.
Promo stickers are easy to install and will last for several years. Order ecological stickers from us for sustainable solutions!

Customized products do not have exchange or return policy. Delivery time is 4-7 business days.
Need some design help? Book an appointment with our designer. Get design help for all your needs!
Contact our customer service by calling 041 3188 185 or sending an email to aspa@teipit.com.
---