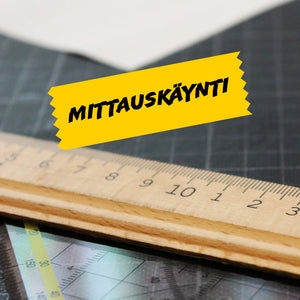 Measuring service
Measuring and planning service
Do you want to measure the area where the adhesives or wallpapers will be installed yourself or do you want to let certified professionals take care of the measurement? If you want to be completely sure that you are ordering the right size adhesives or wallpapers, make an appointment with us for a measurement and planning visit.
Dimensions are the starting point for a successful order, production and installation. That is why it is important that they are accurate. Our pricing and the print production itself are also based on these dimensions.
During the measurement and planning visit, we can also verify whether aerial work platform is needed for the installation site and we can help you with the right material choices. We carry out installation work less than 3 meters high at normal list prices. Installation sites higher than this require scaffolding or aerial work platform, depending on the situation, which increases the price of the installation service. In this case, please contact our customer service: aspa@teipit.com
With the measurement and planning visit:
We make sure that the conditions, location, material and place of the installation site are suitable for adhesives or wallpapers.
Dimensions will be accurate for the production
We can give a realistic time estimate for the work.
You will receive an exact, measured offer.
Our designer can implement an exact plan for you with graphics prepared according to dimensions.
You avoid common pitfalls and your project succeeds carefree from planning to implementation.
Book a time in our calendar for a measurement and planning visit. Our service price list is based on destinations located in Uusimaa.
Do you need planning help? Make an appointment with our designer. You will get design help for all your needs!
Contact our customer service by calling 041 3188 185 or sending an email to aspa@teipit.com .
---