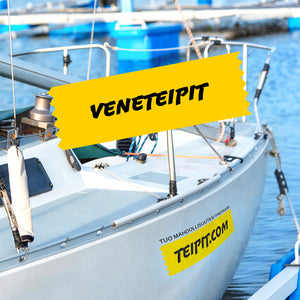 Boat stickers
Boat decals
Boat decals are the perfect way to stand out in harbors and at boat clubs. We provide the best stickers for the boat of your dreams. Our boat tapes are designed to withstand wind, water and sun. The fixing of the decals is based on UV light, so the UV light also improves the durability of the tapes.
Boat decals are easy to install yourself. The boat decals are also easy to remove and they don't tear the boat's varnish with them.
Order long lasting and top-quality boat decals with the text and color of your choice here. You can see the price of the boat decals as soon as you choose which size decals you want.
Is the graphic you want a vector file? If you have no knowledge of vector files, you should reserve time for vector file instructions. This process requires a program that can produce vector files, so it's often easier to leave it to a professional.
How to order boat decals:
You can either follow the instructions on the form and order your boat decals with the texts you want, or download the vector file to print.
If you cannot find a vector file, book a video call with our designer. Our production requires a vector file.
Custom-made products do not have the exchange or return policy. Delivery time is 4-7 business days.
---